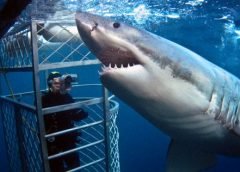 If you are looking for a thrill-inducing adventure, then look no farther than skydiving. This extreme sport is, basically, free falling from an airplane and parachuting to the ground. It is necessary to go through routine training before making the jump. The training takes place on the ground with the help of virtual reality, which helps practice freefall and parachute control. Beginners can choose to jump out alone or with an instructor if they are not very confident. Diving with the instructor is referred to as Tandem Skydiving.
Skydiving is also one of the best ways to explore the sceneries of a location, especially if they are as gorgeous as the ones mentioned below –
Mount Everest, Nepal
Mount Everest is the very obvious answer to the question – Which is the best place in the world for skydiving? Enjoy the experience of Tandem Skydiving from an elevation of 12,500 ft with a panoramic view of snow-covered mountains. Skydiving in Pokhara is less extreme than in Gorak Shep, Kala Patthar, but both are equally breathtaking skydiving locations to witness  Mt. Everest from up above. To visit these places, you can book cheap flights to New Delhi via ixigo.com and then take another flight to land in Kathmandu.
Grand Canyon, USA
While it is an amazing adventure to hike the Grand Canyon or take a long walk through it, skydiving here is equally, if not more, adventurous an activity. It is one of the best skydiving locations in the United States, others being Arizona, Santa Barbara and the Pacific Coast in California.
Palm Jumeirah, Dubai
Enjoy Tandem Skydiving from a height of 14,000 ft and parachute down to Earth with a 360 degree view of the Palm Jumeirah, one of the most stunning structures to look at from high up in the sky. You can get the best hotels in Dubai at astonishingly reasonable prices online if you want to stay for a day or two.
Victoria Falls, Africa
A skydiving stint in Victoria Falls is an exciting endeavour to undertake. Enjoy Tandem Skydiving from a height of 10,000 ft with a bird's eye view of the lovely landscape below.
Interlaken, Switzerland
There's no place better for a vacation than Switzerland, right? Imagine enjoying its majestic mountains and azure blue lakes from the sky! In Interlaken, you can experience tandem skydiving, accelerated freefall, bungee, static line and much more.
Fox Glacier, New Zealand
Counted among the most splendid skydiving sites of the world, Fox Glacier guarantees an exhilarating adventure with a freefall from a height of 13,000 and 16,000 ft. The stunning landscapes of New Zealand will captivate you such that any fear of height will melt away in mere seconds.
Pattaya, Thailand
Known for its blissful beaches, Thailand is a splendid location for both surfing and skydiving. A tourist-favourite destination, Thailand is one of the most beautiful locations for tandem skydiving as well as free fall from a height of 9000 and 13,500 ft. The skydiving rates in this country are much more nominal from anywhere else, which is only an added bonus.
This exciting sport will, surely, be the most stimulating experience of your life. So, wait no more, pick a destination from the list above and get ready to spread your wings.