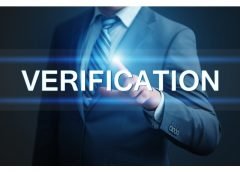 A prosperous workplace means happy employees. The correlation between the success of an organization and its employees is quite clear. When a company hires the right workforce, its success becomes inevitable. So, it is paramount that you as a business owner should keep a close eye on the employees being hired. I know, it is not possible for all of you as a lot of hiring happens in the big organizations and doing background verification of each candidate under strict monitoring seems quite an arduous task.
This is why businesses look forward to hiring third party verification service providers. These vendors ensure to filter out each information of the employee who is going to join your team. Now, a lot of arguments come up regarding the outsourcing of background verification and why it is so necessary. Let me tell you, it may bean extraneous task, but doing it effectively means strengthening your brand for good.
To counter the critics, here are some of the compelling reasons that show why background verification is necessary for the corporates of sizes and sectors:
Why background verification?
As per a survey, in 2016 alone, 1 out of 10 candidates in India provided false information about their education.
There are several instances where the graduation or post-graduation degrees are used by candidates in order to earn a higher salary or better profile.
1 out of 1000 candidates (with a criminal history) lies about their criminal record when applying for a job.
So, yes, it is not over-correcting if you are looking for a third party verification to ensure a well-checked background monitoring for your employees.
How background verification is done in India?
A specialized service provider will make sure to screen your candidate's previous employment details, educational degrees, accolades and certification, legal records, and at a few times the credit scores too.
The background verification process is concluded usually between 3-10 days but depends on the depth of screening a company wants on its employees.
The information that a third party verification company will seek includes the public records, work history, education records, and address verification of the candidate.
The vendor will make sure that no employee in your company is actually lying about their previous held designations, previously drawn salaries, their colleges, degrees, addresses, etc. This is the way you will be assured that your workforce consists of credible, qualified, and right employees.
For work history assessment, the vendor will call up candidate's last employer and crosscheck the given details to ensure their authenticity. Additionally, the public database is examined to find any record of illegal activities with respect to the candidate.
Big sized organizations usually hire the third party vendors, while smaller and medium-sized companies rely on their HR teams to do the same. Government firms are the ones that do a stringent verification on the candidate's background. This includes residential proof, address verification, police verification, etc.
If the hiring is done in a bigger corporate or PSU, the third party verification team goes much deeper in the assessment process.
Like an Adhaar verification is required now. And since Adhaar (UID) is now linked with your bank accounts, driving license, PAN card, and basically everything, the tracking of information become more easy and full-proof.
Government organizations in India also rely on the NAD or National Academics Depository to ensure the credibility of the education records of the candidate. Similarly, a database of NSR or National Skill Registry is also tracked to verify the candidate's details.
Apart from these conventional and typical methods, the third party verification vendors also go through the candidate's social media profiles. This is one of the best ways in the present time to get a personality check of a candidate. All the company owners want a healthy and productive work environment inside the premises. So, it becomes important to see how the candidate behaves socially.
Regarding the legality issue, background verification is completely legitimate in India. Even a lot of outsourcing companies also ignore the background verification process thinking it is insignificant. But, in reality, a solid background verification ensures a strong workforce, which, in turn, assures a higher performance and superior growth in the future.