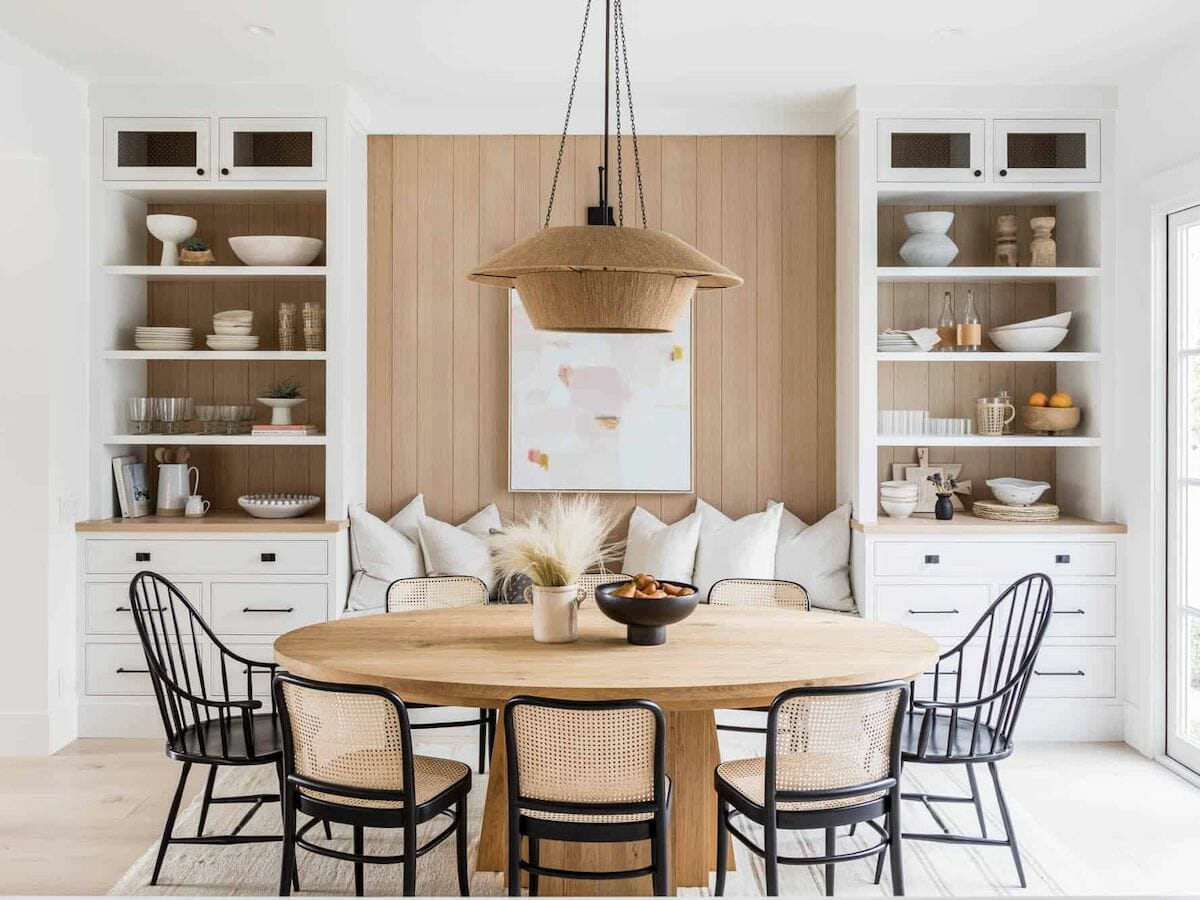 The dining table and chairs are the most crucial elements of a dining room. You should very carefully choose a set that ensures you can eat comfortably and complements the theme of the home design. However, thinking about only the chairs and table is not sufficient to create a great dining room design. From storage to accent pieces, you will have to plan every element carefully to create a well-styled dining room. If you are not sure about how to create a dining room for hosting in style, here are a few dining room ideas you can take inspiration from:
Dining Room Look
01 of 02 Try to make the room multifunctional
In urban cities, homes are not very large. This does not mean you cannot make your home functional and aesthetic appealing. You can come up with various interior design solutions to make your small dining room more functional. A common technique used by professionals is creating a multi-functional space. There is no golden rule that dictates that you cannot use your dining room for other purposes. Many people prefer creating a multi-functional space so that everything can be easily accommodated in the small home design. Depending on your choice, you can either create room for a playroom for your kids, a workspace for your work, or just a cosy seating space for relaxing.
02 of 02 Give it a posh look
Many people love the high-end dine-in experience. You can create this setup in your home as well. If you love hosting dinners or parties, add some glam to your dining room idea. Given the number of options available in the market, there are countless ways to do so. Many experts suggest opting for elegant and minimalist options to create a comfortable and opulent atmosphere. For instance, you can opt for chairs that feature a high-end upholstery fabric. Also, muted colours work better in luxurious home interior designs. Do not forget to give it a muted colour scheme.
Dining Room Wall Decor
The walls cover a huge portion of your room. If you do not pay attention to them, the overall appeal of the room will be affected. Many people prefer leaving the walls blank. However, they can appear a little boring. To invoke more interest in your dining room design, you will have to come up with interesting dining room wall decor ideas. Here are a few options you can consider:
01 of 02 Create a beautiful gallery on the walls
If you do not want to leave the walls empty, you can use artwork to decorate them. Using artwork for decorating walls has always been a very popular technique. If you want to create a more vibrant and lively setup indoors, consider opting for multiple small ones and hanging them together in groups on the wall. This will allow you to create a beautiful gallery on your dining room wall and enhance its beauty. Repeating small similar items in home design helps to create a balanced look. Make sure you choose artwork of different shapes and sizes for creating a more interesting look.
02 of 02 Make a bold statement
If you want to make a bold statement in your dining room design, you can hang artwork on the wall. However, instead of creating a gallery with lots of small pieces, you can create a bold look by hanging a large statement piece on the wall. It will add more character to the space and attract all the attention. There are many dramatic paintings you will find in the market. Make sure that the colour and design complement your dining room design.
Dining Room Table Ideas
Choosing the right dining room furniture is one of the most important tasks. You can get various types of dining tables in the market when it comes to choosing the size, shape, material, finish, etc. However, you cannot choose any options randomly. The size and style of the table should match your dining room idea. Here are two things you should consider when choosing a dining table:
01 of 02 Do not forget about texture
If you want to add more depth and visual interest to your dining room interiors, you will have to introduce textures. You can introduce more texture by choosing dining room furniture featuring any natural pattern or a marble tabletop. However, if you choose a minimalist dining table, choose highly textured chairs.
02 of 02 Hide-A-Table
If you have a small dining room idea, you cannot fit a large dining table. This is when you will have to come up with creative ideas. For instance, you can get a dining table that can be expanded when required. As a result, you can easily create more seating space in your small dining room idea when you have lots of guests.