Bread is one of the various staples of Indian people. If you have ever watched a Bollywood film or visited an Indian restaurant, surely you are no stranger to these breads. Indian breads are indeed diverse, depending on the ethnic group and the area where the bread originates.
Generally Indian breads are dominated by flat shapes and cooked by baking. Although at first glance it looks the same, these breads have a different name, this is influenced by the use of the ingredients and the cooking process. If you go to an Indian restaurant, don't call it wrong. Because in addition to different ingredients, taste and textures are different.
1. Bhatoora
Bhatoora is also known as Batoora, Bhatura, Batura, Pathora, or Tamil puri. This bread is made from maida flour, yogurt, oil and yeast which is then cured and allowed to expand. The dough that has been divided into small spheres is then flattened and fried. This bread has a soft and chewy texture.
2. Kulcha
Kulcha is made from maida flour, water, a pinch of salt and yeast which is washed and allowed to expand for several hours. Kulcha is cooked by burning it in an oven in the form of a clay jar called tandoor. Sometimes when baked Kulcha occasionally smeared with butter can even be added with coriander leaves.
3. Chapati
Chapati is also known as bread, safati, shabaati and roshi. Chapati is made from whole wheat flour known as  atta , salt and water which is washed out and allowed to expand before baking on a flat pan called tava .
In some areas, chapati is momentarily roasted and then burned directly into the fire to make the bread expand like a balloon and will deflate itself when cooled.
4. Dosa
Sin is a pancake from India, made from fermented dough. This bread looks a bit like the crepe. The main ingredients are rice and black beans which have been soaked in water for one night. This material is then finely ground to form a mixture which will be fermented for one night. When you want to cook, this mixture is added with water to achieve the desired thickness. Cooking is exactly like cooking a crepe.
5. Luchi
Luchi is a Bengali, Assam, Maithil and Oriya regional specialty bread. Luchi is made by mixing maida flour with water and a spoonful of ghee, a type of typical Indian butter. The dough is then divided into small balls. These little balls are flattened and fried.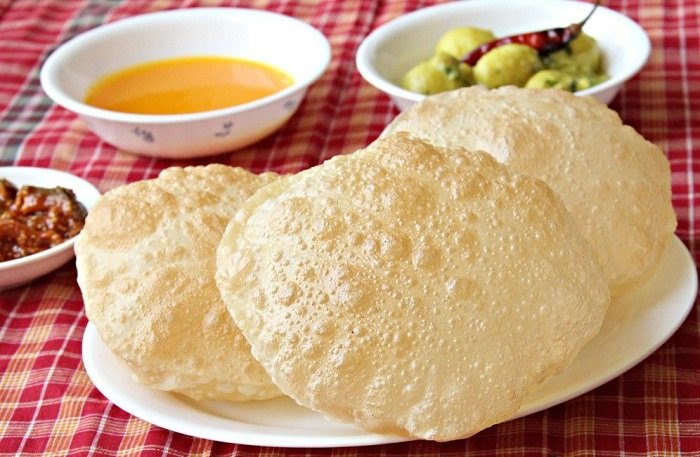 6. Parotta
Parotta bread is also known as porotta or barotta. Parotta made from Maida flour, eggs, butter and water. all of these ingredients are harvested and then divided and left for several hours to expand. after expanding the bread is flattened until completely flat and then rolled and flattened again with a certain thickness before baking in a pan that has been obtained with oil or butter. At first glance it does look like rolled bread, but bread rolled using flour instead of maida flour.
7. Naan
Naan is basically made from a mixture of flour, salt, yeast, and yogurt, which is washed and left for a while. The cooking process is the same as the kulca. But in its development Naan added various spices, raisins and even meat, vegetables and cheese.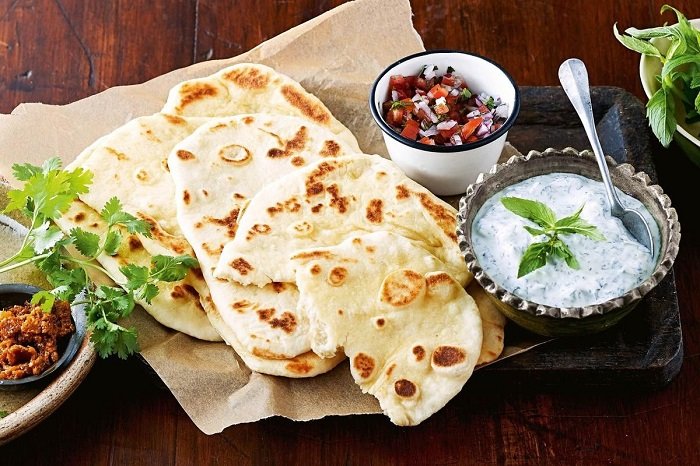 8. Paratha
The ingredients for making parathas are not much different from the parotta ingredients, except that they are replaced with flour. Paratha is better known as canai bread. Generally in India parathas are cooked by flattening to a certain thickness then bake on the face which has been applied with a little oil or butter. But making parata or is more popular with making methods such as parotta bread.
9. Bhakri
Bhakri is generally consumed by Indians in the regions of Rajasthan, Malwa and Goa. The texture is coarser than bread and is asked for three ingredients, flour, salt and hot water. This flour and salt is doused with hot water and washed. unlike other breads that have to be left alone, Bhakri can be roasted immediately.
10. Pathiri
Pathiri is a local cuisine from the South Indian region. Just like bhakri, pathiri is made from simple ingredients, rice flour, salt and hot water. Made by putting rice flour into boiling water and stirring until it is suitable to be washed. This mixture is then flattened and baked.
11. Puran Poli
Puran Poli is a Maharashtrian recipe made using chana dal , flour and cardamom and granulated sugar. This bread is very rich in the best taste choices. Puran poly is usually served at festivals such as Diwali and Ganesh Chaturthi. With various variations, Puran Poli is eaten in various parts of India, including the South. This is a popular dish in Gujarat too.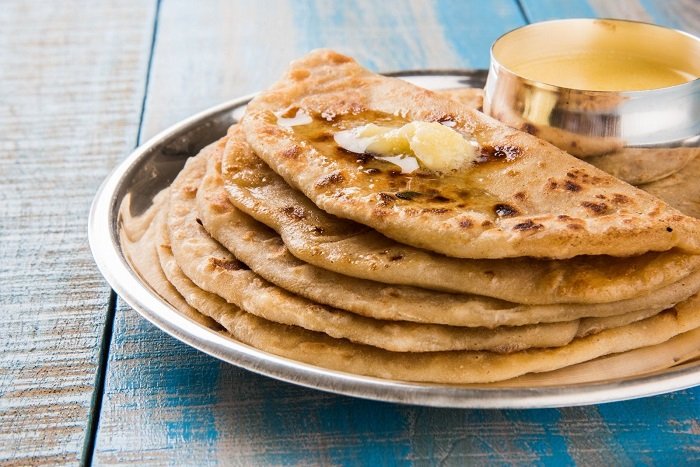 12. Rumali Roti
Rumali bread or roomali roti is Punjabi specialties. This name is given because of its thin shape like a handkerchief which in North Indian means roomal . Besides this bread has a chewy texture. This flour is made from a combination of wheat and maida flour which is added with water or milk and a little oil. This dough is left for a while then flattened and baked.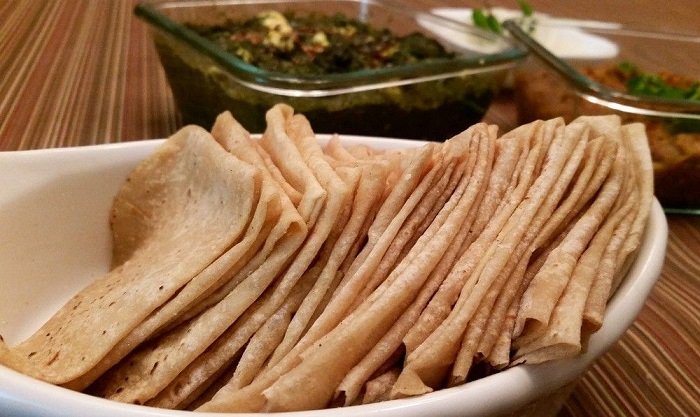 If you want to eat some of the bread, try coming to a typical Indian restaurant. Of course there will be a more varied and tempting menu. What do you want to try first?
Discover the best of India with Indian Travel Connection, an affiliate of Travelogy Mexico offering the finest tours, packages, accommodation, and more! For more visit https://www.travelogy.com.mx/viajes-india/