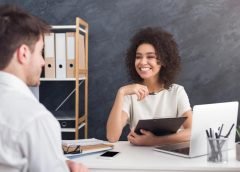 Artificial intelligence is creating an impact on all aspects of modern businesses. Before the arrival of AI, businesses had no option but to depend on inconsistent data. With the arrival of AI, things have started getting better as AI holds the ability to play with data and come up with something exciting that is suitable for every type of industry. It's high time to know that way it is creating a disruption in industries.
According to the sources, the AI market is expected to grow at a compound annual growth rate (CAGR) of 52% from 2017 to 2025. The reason why you should become an AI engineer is due to the growing use of this technology to transform the business. Let's quickly introduce you to a few things that it is improving!
Artificial is improving business intelligence
AI is impacting modern businesses. AI feeds on big data and transforms into actionable insights that help the executives in decision-making. Organizations keep on generating data and the analytical strength of AI will help power the next phase of decision-making and profitability. It also provides real-time data to enhance prescriptive models.
Help understand targets and serve customers better
It holds the power to predict consumer behavior and understand customer needs. 5-star customer experience can be created with the help of AI. An enriched experience can be created with the quality of interactions between companies and customers. This is perfect to build trust and royalty.
Enhancing fraud prevention activities
AI helps to fight fraudulent attacks. It spots the crime and immediately stops it from occurring. AI has remodeled security with its potentiality to detect threats in real time and predicting emerging threats.
Improving efficiency
AI improves the experiences of both employees and customers. This, in turn, increases productivity and workload efficiency with the help of automation. Risk of human error is reduced using artificial intelligence to analyze data, produce reports, and automate decisions in real time.
Besides all of the above benefits, AI is also changing the way how social media works, enabling constant customer support and reducing costs.
Fact Alert
According to Gartner, Artificial Intelligence is expected to create 2.3 million jobs by 2020. According to Dun & Bradstreet, 40% of organizations are adding more jobs as a result of deploying AI withing their business.
With the emergence of technology in every industry, the demand for AI professionals has  increased. It will open the career path for various job roles- Prinicipal Scientist, Machine Learning Engineer, Computer Vision Engineer, Data Scientist, AI Engineer, Algorithm Engineer, and Computer Scientist. Artificial Intelligence professionals are being hired by the top companies that include Microsoft, Amazon, IBM, Adobe, Uber, Facebook, etc.
There is an increase in demand for certified AI professionals who are able to prove their worth in the field. AI Certifications give rise to skilled AI professionals and help them demonstrate their strengths and skill sets by making a mark on their resume. The AI certifications set them apart from the non-certified individuals. Get certified to showcase your knowledge and land your dream job!