You're looking for the Best Online Exam WordPress Plugin of 2020 for your WordPress site. Stay connected I'll help you in narrowing your search on some of the best ones available in the market right now.
In this era as the technology evolves and more people come online taking benefit of the digital revolution. It's now feasible and equally important to turn to online means of working and keep up with the world.
Online Examinations are gradually surpassing the tradition pen-paper based exam approach. The entire process of teaching and learning has now shifted from classroom boards to e-learning, virtual classroom, live-sessions, video tutorials, and what not!
Exams too haven't been spared, the tedious process of traditional exams takes a lot of time, money, and physical logistics. All thanks to technology, online exams can solve all these problems.
If you have a WordPress website we can easily solve this problem with the help of Plugins. WordPress has thousands of Plugins in its bucket ready to use, we can use them to create an Online Exam too. The greatest benefit of adding an online exam plugin to your website is:
It is Secure
It is easily accessible and provides a Graphical Interface to operate
It is Time Saving
It is Free or Somewhat cost-effective
It has the ability to Store Results and Manage Data
And much more…
Here we have hand-picked some of the best online exam plugins and curated a list of the Top 5 Free Best Online Exam WordPress Plugins of 2020. We have considered factors like Pricing, Compatibility, Customer Support, PayPal Integration, other third-party integration, and Social Sharing.
Top 5 Best Online Exam WordPress Plugins of 2020
1. Quiz and Survey Master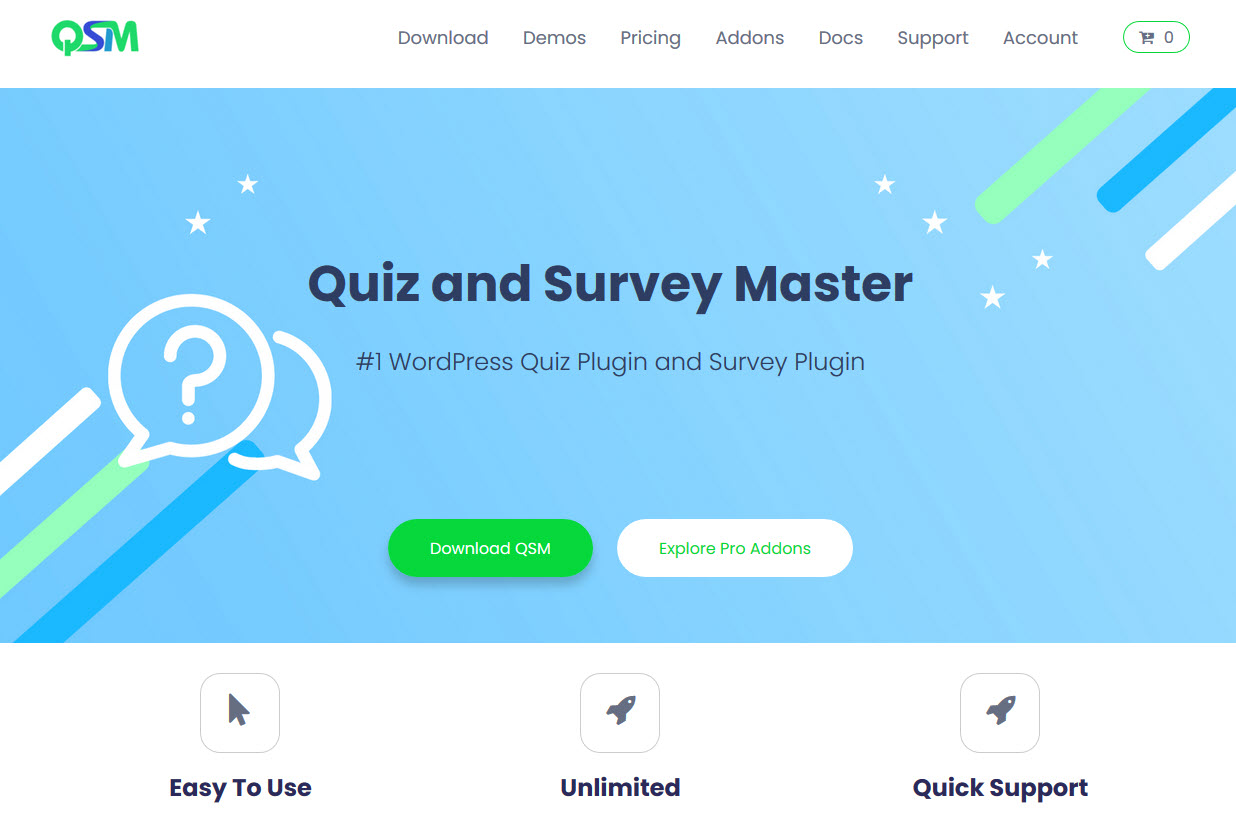 Quiz and Survey Master is the number one and the Best Online Exam WordPress Plugin for Creating Online Exams, Surveys, Quizzes, and feedback forms. And it ticks all the factors needed in an online Exam plugin. Quiz and Survey Master has an easy to use interface and is easily compatible with your WordPress website.
It is highly customizable, has a list of awesome Question Types (Multiple Choice, Drop Down, CheckBox, Captcha, Fill in the Blank, Slider, etc..to name some), you can create multiple pages and can add unlimited questions without any lag issues.
After successful exam completion, the examinee will receive their Test Result via. email and the Exam Results will be stored in the database for later evaluation.
You can set the Date and Time of when you want the exam to come live and when no to. It has a Timer function, where you set the exam time and the exam will automatically be submitted after the elapsed time.
It has various Advanced Functions Addons like PayPal and Stripe Integration, Certificate, Google Analytics, Google Sheets Integration, MailChimp Integration, Slack Integration, etc.
Price: Free Standard Plugin, Paid Pro Addons for Advanced Functionality.
2. Thrive Quiz Builder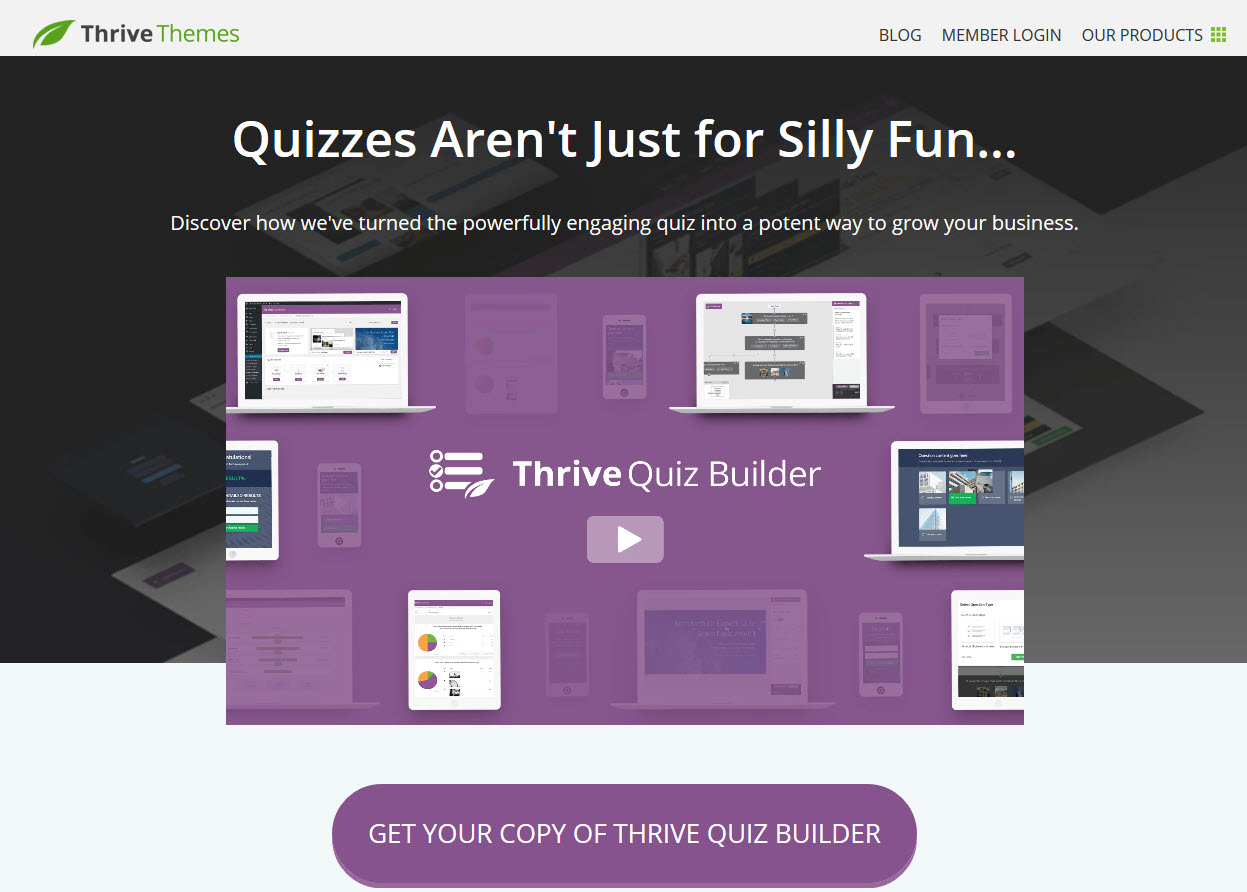 Thrive Quiz Builder is another good Online Exam WordPress Plugin. With the Thrive Quiz Builder, you can create beautiful looking complex Quizzes in many styles. It makes it easy to visualize how the Quiz will look on your website when it goes live.
It has tons of unique features, The analytics feature allows us to trace the exam flow with start and end times and individual question states during the examination.
The exam creation becomes easy with the built-in quiz templates and customizable result pages. Unique Quiz Dashboard helps to manage and customize test quizzes and exam Questions for your website.
It has 4 Quiz Types Number, Percentage, Personality, and Right/Wrong and 3 Question Types for creating Questions for your Online Exam. The exam created with this Plugin is mobile friendly and works flawlessly on any device. It has a lot to offer based on the License pack you choose.
Price: It is a Paid Plugin with a Single Site License costing around $67.
3. WP Quiz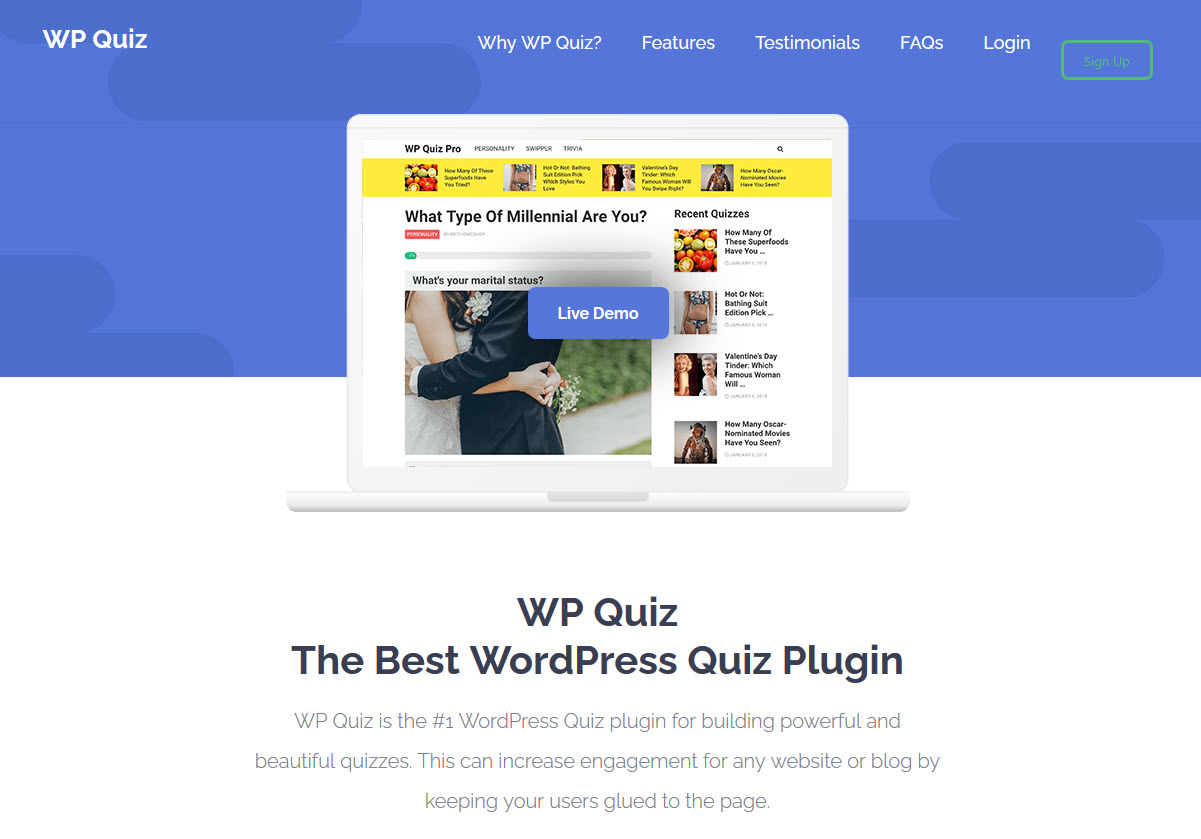 WP Quiz is yet another Online Exam WordPress Plugin. It is an easy to use, responsive, and Flexible Plugin. It can be used to create Trivia Quizzes, Personality Quizzes, Swiper Quiz, Flip Quiz, Surveys, and much more. It also has an easy to use interface and provides loads of customizations like its competitors.
It has a two different Styling Options Single and Multi-Page option for your online exam. With it, you also can add an auto-scroll and social sharing buttons to your exam.
It provides various options to customize the exam experience like restart quiz option, hints option, right answer explanation, and much more. It also has the option to ask details of the examinee before taking the exam and also allows them to view their results.
With this plugin, you will have unlimited Exam Color options to make it look engaging and can easily work with any of your current theme. It is mobile responsive and fast in use.
Price: Free Standard Plugin with Limited Options, WP Pro costs around $77 for 3 sites.
4. Quiz Maker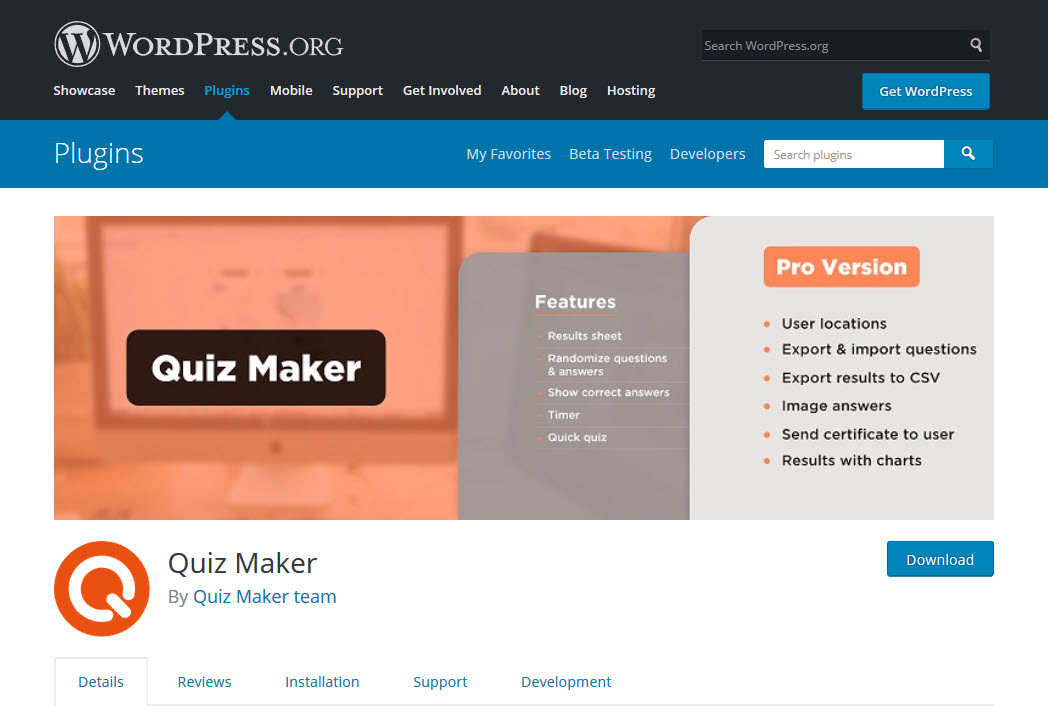 Quiz Maker Plugin is one of the Best Online Exam WordPress Plugin to create Exams and Quizzes in a Short Period of time. The Plugin is easy and Flexible to use and can Support multiple, Quizzes, Tests, and Surveys.
It has Question Types like Radio, Checkbox, Dropdown, etc. to create user-friendly and engaging quizzes and Exams. You can add images and style your quizzes for a personalized experience.
You can limit the Exam only for logged in users too through which only registered users can take the Exam. It also has a timer function for time-specific quizzes and they can be auto-submitted once the time is up!
Through the dashboard, you can track quiz details like visitor count, Quiz Start time, Quiz End Time, and many more details related to the Quiz. Like QSM you also can send certificates to the users taking the Exams.
You can add an unlimited number of Quizzes on a Single Page with this Plugin. Also, Social Media sharing of the Quiz is also available.
Price: Free Standard Plugin with Limited Functionality, whereas the Business License costs around $29
5. BuzzFeed Quiz Builder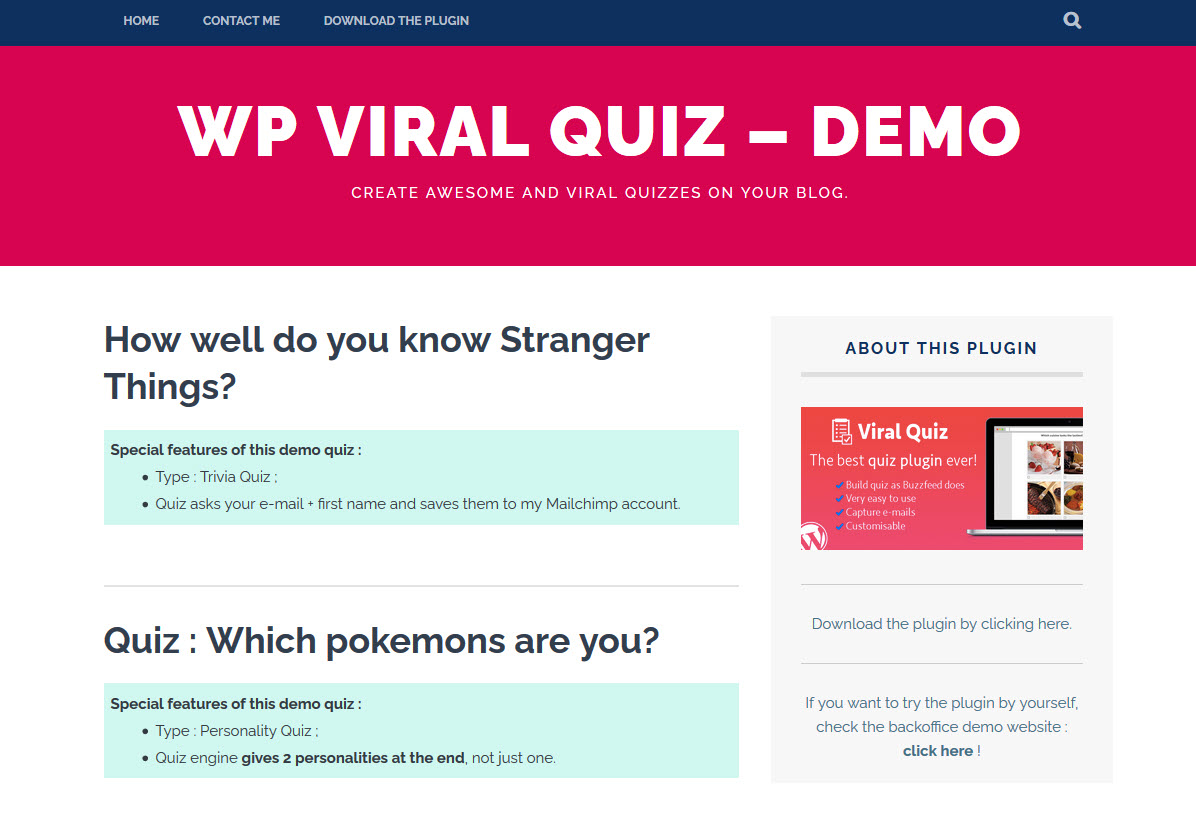 This BuzzFeed Quiz Builder another Best Online Exam WordPress Plugin plugin that helps to create interesting Trivia and Personality Quizzes in WordPress. These Attractive looking Quizzes help to keeps the user engaged on your Website thus reducing the bounce rate.
With this Quiz Builder Plugin, you can allow your site visitors to use Quizzes across multiple mobile and computer devices. It has WPML compatibility and is completely GDPR compliant.
If you want to display ads to your quiz takes you can easily do it with this plugin and earn money through your website.
You can ask the user to enter their name and email address which helps to send them their results after taking the Exam directly to their email address. Users can also share the Quiz results on social media platforms for public viewing.
Price: It is a Paid Plugin with its regular license costing around $36.
Conclusion
And here the article comes to an end, these were my recommendations on the Best Online Exam WordPress Plugins of 2020. Hope this article helps you find the WordPress Plugin of your choice.
These above-mentioned plugins are full of features that we all desire to have in our Website, helping to easily create online exams, generating quick results, and more.
Share your suggestions and thoughts on these Plugins in the comment box. Thanks for your time!