Marble floors are highly durable and attractive. They provide a royal sheen to your flooring. A clean and pristine marble floor can greatly enhance the look and feel of your room. However, in order to keep your marble floors looking their best, knowing how to clean them is important. A regular marble floor cleaning is essential to maintain the beauty of this stone.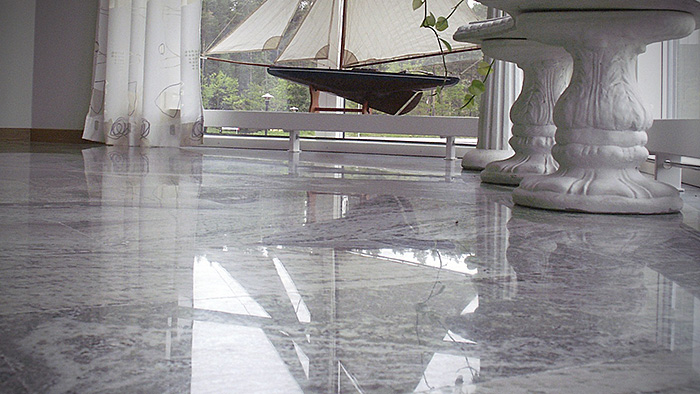 Here are certain key tips to clean and maintain the appearance of your marble floor at home:
Always make sure to clean the floor immediately after a contaminant falls on the marble floor.

Blot instead of wiping any spills with a cloth, before washing with a little dishwashing liquid and water.

Never use any kind of acid such as salt, vinegar and lemon juice on your marble floor for cleaning purpose as they can damage the stone.

A regular cleaning using a soft, clean mop is necessary to keep the floor look clean and shiny.

If you are using a cleaning product to clean the floor, make certain to check the instruction and safety guidelines on the product and test on a small, inconspicuous area first.

Avoid using conventional floor cleaning products, ceramic tile cleaners, anything that's either very acid or very alkaline like vinegar, rough cloths or vacuum cleaners that can scratch or make the material dull.

Always make sure that any items you place on the floor such as plant pots are put on a rubber mat so that there is no direct contact between the marble floor and a hard material that could cause damage.

Consider applying a good quality marble sealer onto the floor so as to add a shielding barrier and limit the amount of damage that can be done to the floor.

If there is any stain on the floor, gently rub it using a mild liquid dishwashing soap or a good quality marble-cleaning product that is pH neutral and a soft micro-fiber cloth in the direction of the grain in straight lines. Avoid scrubbing in a circular motion, as it could damage the floor.

Once the stain or spot has vanished, buff with a dry cloth to dry the area and bring up the shine.
Always remember that with the help of right methods and products, marble floors can be cleaned quickly. If stains are hard to remove, consider consulting an expert who can provide you the best possible advice.